January 20, 2019, 1 pm-4 pm
Vendor Bingo and Wine
It's a Wine and Bingo event! With all of your fav business consultants and fav vineyard! Join us Sunday afternoon for a fun event with Bingo, wine, snacks, shopping and more! Shop from our vendors, select your favorite bottle of wine and pick your perfect bingo spot! Fun and relaxing!
Enjoy delicious wines from Rockbridge Vineyards. Tasting and bottles available! Shopping vendors will be updated once secured!
Attendees will receive ONE FREE bingo card just coming! Say what?! Earn additional bingo cards by shopping and booking parties! Who's ready to play some bingo and drink some wine! Bingo games start at 1:30 p.m
FOOD IS BEING PROVIDED BY ZIZZY D'S BBQ.  COME HUNGRY!   Pulled pork sandwich/slaw chips
Smoked chicken breast sandwich chips 8.00
Sweet tea 1.00
Winter Uncorked with New Plank Road
New Plank Road is an Old Time String Band based in Rockbridge County, VA. Members of the band are Andy Williams (fiddle), Toni Williams (bass), David Winston (banjo), Mary Winston (guitar), and Chris McGrath (fiddle). All of the members, with the exception of Chris, were around in Rockbridge County during the Old Time revival in the late 1970s. They were, in different combinations, members of The Plank Road String Band, Ace Weems and the Fat Meat Boys, and The Hellbenders – all legendary bands from revival period, when Lexington VA was a mecca for those who loved and played this music. New Plank Road plays hard-driving string band tunes that pulse with the memories of good times and great music that put Rockbridge County permanently on the folk music map.
February 10, 2019, 1 pm-4 pm
Winter Uncorked with Ben Witt
Ben Witt is a Bedford, VA native and has been playing music for 5 decades.  He is a self taught musician and has performed primarily as a solo musician.  He covers a diverse range of music which includes singer/songwriters such as John Denver, James Taylor and Jim Croce to more mainstream bands like The Eagles, Rolling Stones and more recently, Rascal Flatts.  Mix it up with a with a little beach music and a Wilson Pickett standard and you have an interesting set sure to please.  Ben has recently retired from his "day job" and is happy to be playing for Rockbridge Vineyard.
February 24, 2019, 1 pm-4 pm
Winter Uncorked with Amanda Baxter & Joanna Bening
Amanda Baxter accompanying the talented and versatile Joanna Bening. Joanna will sing jazz standards of yesteryear, some sultry blues and more. Join us for a mellow afternoon of wine tasting and smooth tunes.
March 10, 2019, 1 pm-4 pm
Winter Uncorked with Bob Zickefoose
Bob Zickefoose is an Associate Professor at Blue Ridge Community College where he teaches Engineering. He is a Mechanical Engineer by training and has worked in the alternative energy field for over thirty years of his career.
Bob stated singing and playing folk music in the 60's and has enjoyed doing that ever since. His music is mostly from the 60's and 70's and is strongly influenced by artists such as John Denver and Peter Paul and Mary.
Bob and his wife Bonnie have four grown children. Bob and Bonnie live in Mount Solon, VA.
March 17, 2019, 1 pm-4 pm
Winter Uncorked with Michael McCray on St. Patty's Day!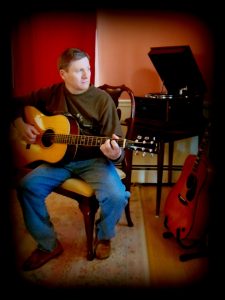 Since 2002, I have been playing the music I really always have wanted to – original compositions, contemporary folk, and an eclectic mix of traditional Americana, rock, jazz, bluegrass, and whatever else feels right. My style may be a little hard to pin down, but that means there is something in it for everyone. Now after nearly fifteen years as a solo performer, I continue to discover new songs to play and audiences to play them for. Hopefully you will be part of one soon.