Vintage VA Wine Festival
Uncork The Flavor, Uncork The Fun, Uncork Virginia!
Over 200 Different Wines From Over 20+ Virginia Wineries in an ALL-YOU-CARE-TO-TASTE affair.
Great LIVE Music.
Exclusive VIP Area!
A Souvenir Glass to take home for your wine sampling.
Great Wine Specials For Purchases.
Great Local foods to taste from festival favorites to DC's hottest Food Trucks.
Wine Pick-Up Service for 2 of more bottles!
A family friendly setting with kids bounce house.

Join us this weekend for a great DrinkEatRelax Event and Northern Virginia's Best Wine Festival! – We will be there with our awesome products and want to meet and greet with you! Get tickets at: https://www.drinkeatrelax.com/
Uncork The Flavor, Uncork The Fun, Uncork Virginia! Get your DrinkEatRelax on with us on (June 1st and 2nd) at Bull Run Regional Park at(@vintage_virginia)
Grab Tickets and Information here: http://vintagevirginia.com/
Shenandoah Valley Wine & Jazz Festival
Our first evening festival! Sample and purchase our delicious Valley wines, grab a bite from the food trucks and listen to great jazz while you watch the sunset.
July 13, 12-6 pm
Summer Breeze Festival
Rockbridge Vineyard Raphine, VA
Rockbridge Vineyard Summer Breeze Wine Festival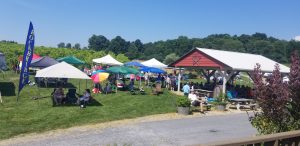 Summer Breeze Wine Festival.  Help us celebrate our 26th annual festival with wine tasting, vendors, and live music.  All 23 of our wines will be open to sample.  Bring the kids, dogs,  and lawn chairs.  Admission is $15/person or $25/couple.   $5.00 of that is donated to the ASCA.  Admission for children is an item for the SPCA.  These can be canned or bagged food for dogs and cats, litter, blankets, or towels.   Current Wine Club Members are free, but are asked to donate 5$ to the SPCA.
Music by Jimmy O!! 12 pm to 3 pm. For over 40 years, Virginia entertainment icon "Jimmy O" has had a mission. His motto, Preserve Endangered Music, says it all. Hear the greatest, the frequently unexpected, and always, the most loved classic music from the 50s to the 90s soulfully and compellingly interpreted by the unique voice and guitar of Jimmy Overton. No two shows are ever alike! The Washington Post calls Jimmy O: "A thoroughly entertaining pop music history lesson…" Don't Miss!
Music 3-5:30 PM
Kiz Carter and Wave Milor. Kiz and Wave
Lisa "Kiz" Carter has been playing the guitar and singing through out Virginia at festivals, breweries, wineries and clubs for over 3 decades. Lisa has a CD out of original songs, "Out of the Blues", released in 2010 and a second CD collaboration with Jack "Juke Jackson" Roy that was released in 2015. She plays original songs and covers many of the blues greats like Ma Rainey, Koko Taylor and Howlin' Wolf.
Waverly Milor (harmonica/vocals) has been one of Lisa's "Juke Joint Junkies" for over 5 years . He is active in the Central Virginia Blues Society and performs in the Charlottesville area with funk/blues band $12 Bacon and Hard Swimmin' Fish. He is known for his homemade harmonica microphone – made from an old telephone. Wave also brings his authentic blues vocals to the mix.
Food Truck is Rock's Money Pit. Award winning BBQ.
Neptune Festival
Join your friends by the oceanfront for an afternoon hosted by Virginia's leading vineyards. Taste from over 70 wines while you meet and greet the fascinating people who are forging Virginia's reputation for quality wines. Enjoy delicious food, live entertainment and the opportunity to purchase the wines you like by the bottle and case.
Smith Mountain Lake Wine
25+ Virginia Wineries
85+ Quality Craft & Food Vendors
Live Bands
Rain or Shine. No refunds, no pets.
Ticket does not include cost of food, purchased wine and/or crafts.
FREE PARKING
More than 10,000 attended the 2017 event.
October 5, 12-6 pm
Harvest Wine Festival
Rockbridge Vineyard Raphine, VA
Rockbridge Vineyard 26th Annual Harvest Wine Festival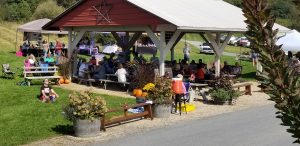 Join us for our 26th annual Harvest Wine Festival.  We will have all of our wine open for tasting outside.  Also enjoy music, hayrides, cornhole, vendors, grape stomping, and food.  Wine and gift sales inside.  Admission is $10/person, wine club members are complimentary.
Virginia Garlic Festival
Virginia wines, live entertainment, arts, crafts and GARLIC! Tastings by guest wineries, multiple stages with live entertainment, over 150 unique arts, crafts and specialty foods.
Town Point Fall Wine Festival
Sip, Sip, Hooray! Grab your glass and head on down to Norfolk's bi-annual Town Point Virginia Wine Festival. Wine Enthusiast Magazine has named Virginia one of the 10 best wine travel destinations in the world!  Every May and October, Virginia wineries gather together to create an event that everyone can enjoy. From the Wine connoisseur to the newbies, everyone can find something to their tastes at this weekend Festival!