Farm to Fork Festival
Rockingham County Fairgrounds
Farm2Fork Affair is a one-day event connecting Shenandoah Valley farmers, producers and makers with large-scale consumers throughout Virginia, West Virginia and Washington, D.C. Buyers from universities and hospitals to fine dining and retail can experience this rich region first hand, create new partnerships, and discover its significant impact on local food systems.
Producers, farmers, makers, wineries and distilleries will take time to talk with buyers, offer samples, and educate buyers about their products.
March 27
Danville Wine Festival
Orange Uncorked Wine Festival
Our 29th Annual award-winning wine festival has a NEW location this year!!  Last year we unveiled our exciting new name and this year we deliver an exciting new venue!!  While we will still have ALL of the things you love about our wine festival, we have an exciting new venue in 2019, along with exciting new wineries and entertainment!! Join us for this year's historic festival, and be part of the excitement of Orange Uncorked!!
Over 20 wineries, craft vendors, local artisans, food trucks, plus a great lineup of music to be announced!!
Sample wines and ciders from Virginia wineries at the 28th Annual Award-Winning Orange Uncorked Wine Festival on the grounds of James Madison's Montpelier, located along Route 20 just south of the Town of Orange.
Spring Town Point Wine Festival
Spend a spring weekend on the Downtown Norfolk Waterfront in Town Point Park, sampling a variety of over 200 wines from dozens of premier Virginia wineries!  Feast on gourmet foods, shop from specialty merchants and enjoy live music at the most anticipated wine festival of the Spring season. All wines presented during the festival are available for purchase by the bottle or case throughout the day
Mt. Vernon Spring Wine Festival & Sunset Tour
Celebrate the history of wine in Virginia with exclusive evening tours of the Mansion and cellar and appearances by George and Martha Washington. Bring a blanket, relax on the east lawn overlooking the scenic Potomac River, and sample wines made in Virginia.
During tours of the Mansion, visit the cellar where Washington stored his wine and learn about the successes and failures of our Founding Father's endeavors with wine.
All proceeds benefit the ongoing preservation and restoration of Mount Vernon and its educational programs.
Mount Vernon's Wine Festival & Sunset Tour takes place rain or shine. All sales are final. Early ticket purchase is suggested. Guests must be prepared to show identification for wine service. Designated drivers will receive free Coca-Cola soft drinks. Pets are not allowed.
Vintage VA Wine Festival
Uncork The Flavor, Uncork The Fun, Uncork Virginia!
Over 200 Different Wines From Over 20+ Virginia Wineries in an ALL-YOU-CARE-TO-TASTE affair.
Great LIVE Music.
Exclusive VIP Area!
A Souvenir Glass to take home for your wine sampling.
Great Wine Specials For Purchases.
Great Local foods to taste from festival favorites to DC's hottest Food Trucks.
Wine Pick-Up Service for 2 of more bottles!
A family friendly setting with kids bounce house.
July 13, 12-6 pm
Summer Breeze Festival
Rockbridge Vineyard Raphine, VA
Rockbridge Vineyard Summer Breeze Wine Festival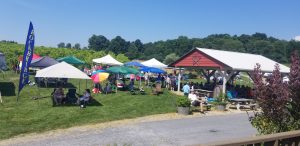 Summer Breeze Wine Festival.  Help us celebrate our 26th annual festival with wine tasting, vendors, and live music.  All 23 of our wines will be open to sample.  Bring the kids, dogs,  and lawn chairs.  Admission is $15/person or $25/couple.   $5.00 of that is donated to the ASCA.  Admission for children is an item for the SPCA.  These can be canned or bagged food for dogs and cats, litter, blankets, or towels.   Current Wine Club Members are free, but are asked to donate 5$ to the SPCA.
Music by Jimmy O!!  12 pm to 3 pm.  Music 3 to 6 pm to be announced.
Neptune Festival
Join your friends by the oceanfront for an afternoon hosted by Virginia's leading vineyards. Taste from over 70 wines while you meet and greet the fascinating people who are forging Virginia's reputation for quality wines. Enjoy delicious food, live entertainment and the opportunity to purchase the wines you like by the bottle and case.
Smith Mountain Lake Wine
25+ Virginia Wineries
85+ Quality Craft & Food Vendors
Live Bands
Rain or Shine. No refunds, no pets.
Ticket does not include cost of food, purchased wine and/or crafts.
FREE PARKING
More than 10,000 attended the 2017 event.
October 5, 12-6 pm
Harvest Wine Festival
Rockbridge Vineyard Raphine, VA
Rockbridge Vineyard 26th Annual Harvest Wine Festival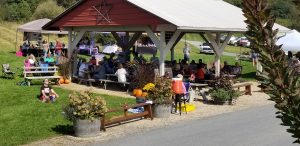 Join us for our 26th annual Harvest Wine Festival.  We will have all of our wine open for tasting outside.  Also enjoy music, hayrides, cornhole, vendors, grape stomping, and food.  Wine and gift sales inside.  Admission is $10/person, wine club members are complimentary.
Virginia Garlic Festival
Virginia wines, live entertainment, arts, crafts and GARLIC! Tastings by guest wineries, multiple stages with live entertainment, over 150 unique arts, crafts and specialty foods.
Town Point Fall Wine Festival
Sip, Sip, Hooray! Grab your glass and head on down to Norfolk's bi-annual Town Point Virginia Wine Festival. Wine Enthusiast Magazine has named Virginia one of the 10 best wine travel destinations in the world!  Every May and October, Virginia wineries gather together to create an event that everyone can enjoy. From the Wine connoisseur to the newbies, everyone can find something to their tastes at this weekend Festival!